Latest ALBUMS
جدیدترین آلبوم Chris De Burgh 2009 آلبومهای قدیمی تر هم در ادامه مطلب میباشند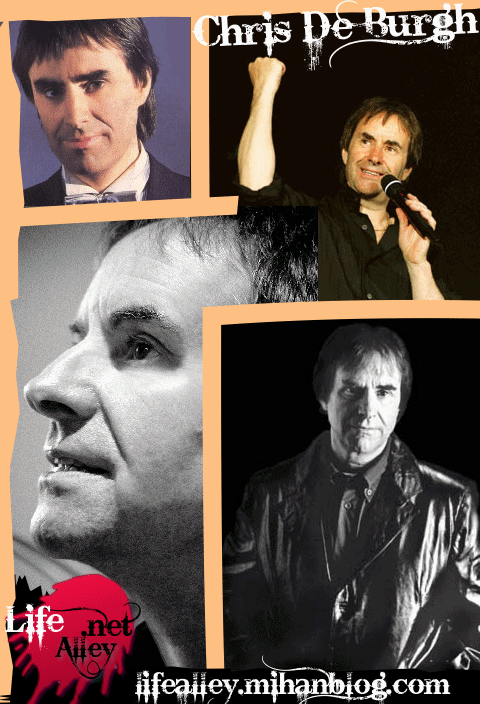 با بیوگرافی (زندگینامه) یک هنرمند مطرح و بسیار پرطرفدار دنیای موزیک , بخصوص در بین خودمون ایرانیا در خدمتتون هستیم , Chris De Burgh , امیدواریم که از آن لذت ببرید ,
كریستوفر جان دیویسون ملقب به كریس دی برگ در ١٥ اكتبر سال ١٩٤٨ در آرژانتین متولد شد. پدرش 'چارلز دیویسون' دیپلمات انگلیسی و مادرش 'ماوی امیلی دی برگ' منشی ایرلندی بود. كودكی كریس دی برگ به خاطر شغل دیپلماتیك پدر به مسافرت و كسب تجربه در این راه گذشت و به این خاطر در كشورهای مختلفی مثل مالت، نیجریه و زئیر بزرگ شد. هنگامی كه ١٢ ساله بود خانواده اش به 'Emerald Isle' در ایرلند رفتند، جایی كه هنوز هم كریس دی برگ با همسرش دایان و سه فرزندش رزانا، هوبی و مایكل زندگی می كند.
در سال ١٩٦٠ پدرش یك قلعه قدیمی به نام بارگی كاسل خرید كه در قرن ١٢ ساخته شده بود. بعد از اینكه قلعه دوباره توسط خانواده دیویسون بازسازی شد، آنها آنجا را به یك هتل خانوادگی برای تعطیلات تبدیل كردند. كریس اولین كنسرتهایش را در این قلعه اجرا می كرد و بعد از ظهر ها برای میهمانان گیتار می نواخت. كریس نواختن گیتار را با روش سعی و خطا، یعنی بدون هیچ نت از پیش نوشته شده ای یاد گرفت.
كریس زبان انگلیسی و فرانسه را در كالج معروف ترینیتی در شهر دوبلین آموخت. هنگامی كه وی مشغول تحصیل در كالج ترینیتی بود شروع به نوشتن آهنگهای پاپ كرد. در سال ١٩٧١ كریس برای پیدا كردن یك شغل در موسیقی به لندن سفر كرد. در یك رستوران و آرایشگاه به عنوان خواننده شروع به كار كرد و از طرف یكی از دوستانش كه به تازگی رستورانی به نام 'Captain Americas' در دوبلین تاسیس كرده بود پیشنهاد كار دریافت كرد و برای میهمانانی كه مشغول صرف غذا بودند موسیقی می نواخت.
در سال ١٩٧٤ كریس با كمپانی M&A قراداد امضاء كرد و گروه سوپر ترمپ را در تور جدیدترین آلبومشان به نام 'Crime of the Century' همراهی كرد. در این زمان بود كه نامش را به كریس دی برگ تغییر داد و در سال ١٩٧٥ آماده انتشار اولین آلبومش به نام '...Far Beyond These Castle Walls' شد.
اولین موفقیت بین المللی كریس در سال ١٩٧٥ با آهنگ 'Turning Round' كه بعدها به اسم 'Flying' تغییر نام داد رقم خورد. این آهنگ برای ١٧ هفته در صدر جدول بهترین ها در برزیل قرار گرفت و بیش از نیم میلیون نسخه از آن به فروش رفت. آلبوم بعدی كریس دی برگ به نام 'Spanish Train & Other Stories' آهنگی به نام 'A Spaceman Came Travelling' داشت كه در انگلستان جزو بهترین آهنگ های كریسمس شناخته شد. ولی موفقیت واقعی این آلبوم آهنگی به نام 'Patricia The Stripper' است كه هنوز هم درخواست اجرای آن از طرف تماشاچیان در كنسرت های كنونی كریس وجود دارد. در سال ١٩٨٤ كریس هشتمین آلبومش را به نام 'Man On The Line' منتشر كرد. این آلبوم شامل یكی از معروفترین آهنگ های كریس به نام 'High On Emotion' است كه در آن زمان در ده كشور اروپایی به عنوان بهترین آهنگ شناخته شد.
در سال ١٩٨٦ آلبوم 'Into The Light' را كه آهنگی به نام 'The Lady In Red' داشت منتشر كرد. این آهنگ در سراسر دنیا باعث شهرت كریس شد و در انگلستان و ٢٤ كشور دیگر به عنوان بهترین آهنگ شناخته شد ولی در آمریكا رتبه دوم را كسب كرد. آلبوم 'Into The light' در آفریقای جنوبی ،‌نروژ ،‌سویس و انگلستان جایزه پلاتینیوم دریافت كرد. در آمریكا، ‌زلاندنو، ‌دانمارك و بلژیك هم جایزه طلایی گرفت. این آلبوم شامل آهنگ 'Say Goodbye To It All' است كه ادامه ترانه 'Borderline' از آلبوم 'The Getaway' سال ١٩٨٢ است.
آلبوم بعدی كریس دی برگ به نام 'Flying Colours' در سال ١٩٨٨ منتشر شد. این آلبوم همچنین پر فروش ترین آلبوم كریس دی برگ تا به حال بوده است. در طول ۲۸ سال فعالیت، ‌كریس دی برگ بیش از ۲۰۰ جایزه طلایی و پلاتینیوم دریافت كرده است. حتی برخی از سیاستمداران و افراد مشهور از طرفداران موسیقی كریس دی برگ میباشند. كریس دی برگ در سراسر دنیا از اروپا (آلمان، انگلستان، ایرلند،...) و آسیا (ایران، ژاپن، لبنان،...) تا آمریكای شمالی (كانادا) و آمریكای جنوبی (آرژانتین، برزیل،...) محبو بیت دارد.
كریس دی برگ تورها و كنسرتهای زیادی در سراسر دنیا از جمله در آلمان، انگلستان، ایرلند، ژاپن، لبنان، كانادا، آفریقای جنوبی، اروپای شرقی، اروپای مركزی و خاور دور اجرا كرده است كه بسیاری از آنها سریعا" به فروش رفته است.
كریس دی برگ در ١٦ سپتامبر سال ٢٠٠٢ آلبوم جدید خود به نام 'Timing Is Everything' را منتشر كرد كه شامل ١١ آهنگ جدید بود. كریس دی برگ در این آلبوم بیشتر به دنبال یك آلبوم تفریحی و شاد بوده است ولی هنوز چند آهنگ از جمله 'There's Room In This Heart Tonight' آهنگهای عمیقی از نظر موسیقی و شعر میباشند. بزرگترین موفقیت این آلبوم آهنگ 'Lebanese Night' میباشد كه در كشورهایی مثل لبنان و سایر كشورها آهنگ شماره یك آهنگهای عربی و انگلیسی شد.
Turn Turn Turn
Where Have All The Flowers Gone
Rhythm of the Rain - Crying In The Rain
Brother John
Older Tracks
Fatal Hesitation
In Love Forever
Lebanese Night
Shine On
Snow Is Falling
The Last Moments of The Dawn
The Rivers of Abraham
--------------------------------------------------------------------------------------------------------
New Chris de Burgh's Album In The Name Of Moonfleet and Other Stories
Artist:
Chris de Burgh

Album

:
Moonfleet and Other Stories

Release Date:
2010

Size:
64.6Mb

Genre:
Pop
R

ock

Min:
69:31

Bitrate: 128 kbps / 44.1kHz / Stereo
Servers:
Mediafire.com
<<<<TRACKs>>>>
The Moonfleet Overture
The village of Moonfleet…Narration
The Light on the Bay
Have a Care

POSTED BY: P3DRAM | DATE: 1389/05/11
Own opinion